You won't find "Pro Touring" in the dictionary. But the term has evolved to describe a type of car that combines classic styling with contemporary performance and handling. Other commonly used terms include "G-Machine" and "Resto-Mod." But the bottom line is a car that looks cool, hauls ass, and can turn corners like a slot car.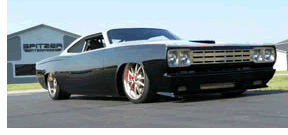 Spitzer Concepts has built a number of cars that fit this category; the most recent of which is the "Road Rattler" Plymouth of Jim Mitchell that debuted at the prestigious SEMA Show in Las Vegas and was featured in the March, 2012 issue of Hot Rod magazine.
While Spitzer's primary fame has come from building cars that go in a straight line, the company has over the years been quietly involved in numerous IndyCar, endurance and road racing projects.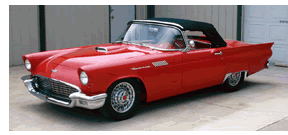 Another objective of a Pro Touring car is the ability to go on trips and enjoy the drive. This adds creature comfort to the mix. And it's another area that Spitzer Concepts has mastered, having done most everything from designing and building custom seats to engineering complex air conditioning systems.
The goal is to provide customers with a vehicle that will stand the test of time in terms of engineering, styling, workmanship and long-term reliability. We invite your inquiries.